YOUR AD COULD BE HERE!
Contact Linda Carroll - (814) 881-4059
for pricing and availability!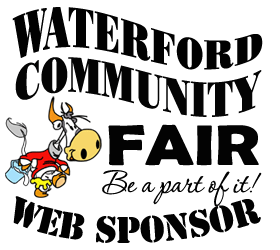 Upon arrival, all livestock exhibits (including out of state entries) must present a current "Certificate of Veterinary Inspection" (CVI) form.
​
Pennsylvania Sheep - CVI issued after May 1, current year
Out of State Sheep - CVI Issued within 30 days prior to date of importation
Sheep
Morgan Kingen
(814) 722-1484
All sheep exhibited must be accompanied by an official certificate of health signed by a licensed veterinarian indicating they have inspected the flock of which the animals are a part and found them free from scabies and other transmissible diseases.

Entries must be postmarked by August 22.

All entries must be mailed with a check made payable to The Waterford Fair Association, $2.00 per animal/per department to: Morgan Kingen, 2510 Stone Quarry Road, Waterford, PA 16441 No phone nor hand delivered entries will be accepted. Entries mailed without the entry fee will be returned.

Total number of entries and number of entries per exhibitor may be limited due to available space.

All animals must meet the health requirements described in the health certification of the fair book. All animals with the exceptions of market animals must have breed registration papers.

All animals must be entered in accordance with Fair regulations by 9:00pm Monday.

Judging is scheduled for Tuesday at 5:00pm.

No animals can be removed before 7:00am Sunday morning. Animals must be removed 10:00am to allow for clean up.

All exhibits will be under the control and direction of the livestock committee, but the Fair Association will in no case be responsible for any consequential or other loss, injury or damage done to, or occasioned by, or arising from any animal exhibited by the exhibitor.
​
Click the download link below for all sections, breeds, classes and premiums for Department 4 - Sheep.
Download PDF