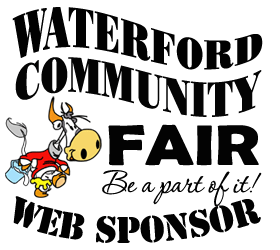 YOUR AD COULD BE HERE!
Contact Linda Carroll - (814) 881-4059
for pricing and availability!
Pedal Tractor Pull -

Saturday - September 10, 2022 - 11:00am
For all boys and girls - Ages 4-8
YOUTH SHOW ARENA
NO ADMISSION CHARGE - NO ENTRY FEE
PRIZES TO BE AWARDED
What's a "Pedal Power" Tractor Pull? Well, it's quite similar to a real
tractor pull, except KIDS are the PULLERS on PEDAL TRACTORS!
RULES:
1. Boys and girls, ages 4, 5, 6, 7 and 8 years old are eligible.
2. Separate pulls will be run for each age group.
3. Parent or guardian must accompany child and fill out registration form.
4. No backing up or jerking of sled.
5. Child must remain seated during pull.
6. Hands must stay on steering wheel during pull.
7. If foot is removed from pedal, pull ends.
8. Pull ends when forward motion stops.
9. If a child pulls a full pull, he/she wants to be included in a "pull off" with others who did the same.
THERE IS NO ENTRANCE FEE!
Prizes will be awarded to the winners in each of the five age groups!
PEDAL TRACTORS PROVIDED!
Download PEDAL POWER TRACTOR PULL REGISTRATION FORM >
​
Please fill out registration form and bring it to the pull!