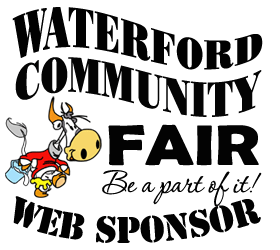 YOUR AD COULD BE HERE!
Contact Linda Carroll - (814) 881-4059
for pricing and availability!
Antique Tractor Pull

Wednesday - September 8, 2021
Download PDF
RULES:
1. Open to any farm tractor on rubber.
2. No tractor can be newer than 1962 model year.
3. Rear tires can be no more than 2 sizes over factory
dimensions. Note: If challenged by track officials, the
burden of proof is the responsibility of the driver of the tractor in question.
4. No engine modifications and/or governor alterations.
5. Tractor draw bars must be able to hook to dyno.
6. No jumping classes.
7. Maximum draw bar height:
Classes 2500# to 5000# - 17"
Classes 5500# & up - 20"
and stationary in all directions.
8. Tractors will be weighed in at fairgrounds at 3:00 pm and close at 6:15 pm
9. No hang-on weights.
10. All decisions of officials are final. Arguing with judges could result in disqualification and no return of hook fee.
11. Engine must run at stock RPM. The Nebraska Tractor test book - 1950 thru 1975 will be used.
12. No more than 10% horsepower over original rating will be accepted.
13. Tractor must remain in bounds or will be disqualified.
14. All rules are subject to change.
15. Tractor Draw bar must have a 3" minimum diameter clevis.
16. No spacing between draw bar and hitch plate or D-Rings to achieve hitch height of 1" or more.
17. No throttle linkage adjustments. Must be original equipment.
Weigh-In and registration at Waterford Fairgrounds
Open at 5:00pm—Close at 6:15pm - First Pull at 6:30pm