YOUR AD COULD BE HERE!
Contact Linda Carroll - (814) 881-4059
for pricing and availability!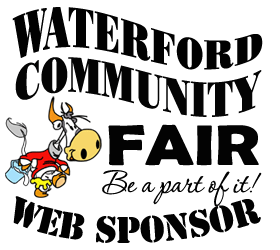 4x4 Truck Pull

Monday - September 5, 2022
Download PDF
GENERAL RULES:
TRUCKS PULL IN ONE CLASS ONLY
Trophy will be awarded to First Place & Second Place
Winners in each class.
GENERAL RULES:
1. Contest open to 4-wheel drive truck or utility vehicles with 4-6-8-10 cylinders.
2. No tire chains or studs - no dual wheels except 8750# class, no 4-wheel drive tractors.
3. All vehicles must have a current inspection, registration and insurance Proof of all three will be requested at weigh-in.
4. All trucks must pull forward.
5. All trucks must enter and leave the track under their own power.
6. All pulls must start with a tight hitch, NO jerking permitted.
OFFICIALS HAVE THE RIGHT TO STOP AND DISQUALIFY A TRUCK IF THE PULL WAS NOT STARTED WITH A TIGHT HITCH.
7. Drivers may not consume alcohol before or during the pull event.
8. JUDGES HAVE THE RIGHT TO DISQUALIFY ANY DRIVERS AND VEHICLES FOR UNSAFE OPERATION IN THE PITS AND ON THE TRACK.
9. No passengers permitted in vehicles during the pull or in staging areas.
10. Any ballast lost while hooked to a sled will be cause for
disqualification.
11. TIRES: Maximum tread width 12.50 - DOT number required.
12. No frame alterations and no hood modifications.
13. Vehicles to have original equipment as intended by manufacturer with body, hood, and fenders. All beds must be street legal.
14. First puller in class may forfeit first pull, then pull sixth and SIXTH only.
15. All decisions of the track judges are FINAL and are not appealable. ARGUING WITH JUDGES COULD RESULT IN IMMEDIATE DISQUALIFICATION WITH NO REFUND OF HOOK FEE.
16. ALL RULES SUBJECT TO CHANGE WITHOUT NOTIFICATION
17. Hitches stock and open classes:
a: Maximum height of 25" from ground to SOLID POINT of hook-up, not using a clevis. Puller must supply a 3 1/2" clevis of their own.
b: Hitch bracing not to exceed 25" from hitch forward or under vehicle.
c: No under bed or over bed hook-ups permitted.
18. Weights - stock and open classes
a: Weights are permitted in bed or cargo area. Weights must be secured if no tailgate is in place.
b: No front mounted weights, also no weights hanging on the vehicle anywhere.
19. CLASS RULE - Engine 5800, 7000, 8750 Stock Classes a: Engine to be stock as from factory, no intake or exhaust changes. Dual exhaust allowed. No headers. b: Updated carburetors will be allowed, but no spacer plates, and no manifold changes. c: Ignitions components must be of factory replacement. No MSD, no Accel Coils, no Dual Point Ignition in stock classes. d: Fuel pump gas ONLY, all forms of nitrous are illegal as fuel or additives. Electrical fuel pumps are permitted. Diesel fuel on in diesel class. No propane enhancements or injectors.
20. Drive line to be basically stock and remain in position as intended by factory.
21. SUSPENSION: Air bags in suspension are permitted. No solid blocking between frame and axle, no solid suspensions, no welded shock absorbers, no solid clamping of leaf springs, no traction bars (except 8750# class) and no lift kits.
22. AXLES - No welded or spooled front or rear axles. Vehicles must be able to drive ON and OFF the track without stopping to lock or unlock front or rear axles so you can turn.
23. Any changes of pulling vehicles from manufactures' original intention will move your vehicle to open classes.
24. 5800 and 7500 Open Classes: Open classes were made for vehicles that have some sort of modification to them.
a. Engine must run on pump fuel. No nitrous or enhancement fueling.
b. Headers allowed provided they're hooked to full exhaust. All vehicles must have exhaust extended past the cab
c. Suspension will be able to be clamped or have a block with a 1" gap between blocking device and axle. No solid suspension. Traction bars will be allowed.
d. Axles may have lockers or posi-traction, but cannot be welded or spooled. Vehicle must be able to turn ON TO and OFF FROM the track with NO HELP from an outside person.
e. NO DUAL WHEELS
​
Rules for Tuff Truck Classes
1. Automotive Engine
2. Traction bar permitted
3. No welded rear or front end.
4. No solid suspension
5. Brakes must be working.
6. Factory production frame.
7. All body parts in place.
8. Max. height is 25 inches
9. No nitrous oxide
10. No state inspection or plate needed for 6800# class Tuff Truck
​
​
Weigh-In at Waterford Fairgrounds
Open at 3:30pm—Close at 5:30pm