YOUR AD COULD BE HERE!
Contact Linda Carroll - (814) 881-4059
for pricing and availability!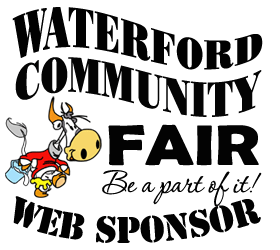 DIVISION I - YOUTH FLORAL EXHIBITS
1. Entries must be made between 9:00am and 8:00pm Sunday, September 5, 2021.
2. The use of or displaying of artificial flowers or fruit is prohibited.
3. The use of conservation material such as arbutus, ground pine, or dogwood is prohibited.
4. Plants will not be judged unless they have been grown in containers for at least three months.
5. The management will not undertake to return exhibits or be responsible for same.
6. Flowers or plants entered for competition must be more than ordinary standard and quality to be entitled to an award.
7. The committee may at any time order the removal of any exhibit which is in bad condition. Any article manifestly unfit to show may be excluded.
8. All entries must be grown by the exhibitor except in design classes.
9. Judging will begin at 9:00am Tuesday.
10. Exhibits may be viewed from 1:00pm Tuesday through 8:00pm Saturday.
11. All entries must be removed between 8:00pm and 9:00pm Saturday.
12. Additional awards to be made by Waterford Fair Association.
13. Containers will be furnished for all cut specimens.
​
Click the download link above for all sections, classes and premiums for Department 11 - Youth Floral
​
​
Download PDF
​
1. 3 BLOOMS: 3 individual flowers on separate stems with foliage attached to stem.
2. SPRAY: A main stem with side branches and blooms on all sides with attached foliage.
3. DISBUDDING: The removal of lateral buds along the stem of a flower to promote the development of a large terminal bloom for exhibition purposes.
4. SPIKE: A lengthened flower cluster in which the flowers are practically stemless. Ex: Gladiolus
5. STALK: The stem or axis of a plant especially a non-wooded one.
6. STEM: Any main or lateral axis of a plant which develops from a bud, possesses nodes and internodes and bears leaves and buds at the nodes.