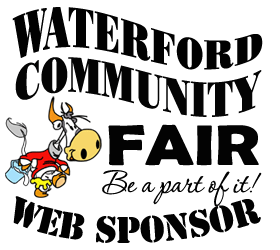 YOUR AD COULD BE HERE!
Contact Linda Carroll - (814) 881-4059
for pricing and availability!
Department 11 Rules
1. All pictures (i.e. photographs, drawings, paintings, self portraits, etc.) MUST be matted and/or framed and ready to hang. Paper only entries will not be accepted.
2. ALL pictures must have proper hangers. (Hangers made of rope with scotch tape, paper tape, duct tape etc. are unacceptable. Tape hangers loosen and result in pictures falling to the floor and breaking the glass.
3. Sections 2 (Needlecraft/Clothing) & Section 3 (Knitting, Crocheting & Other Needlework)
A. Article must have been made since the end of the last fair year
B. Items Should be clean and made entirely by the exhibitor
4. Entries not conforming to exhibit rules may not be accepted
5. LEGOS, K-NEX etc. entries to be no larger than 14"x16" at the base.
6. Due to our limited display space, pictures should be limited in size to no larger than 20" x 24" (including frame)
7. Entries are limited to No more than 3 ITEMS per category. (e.g. 3 pencil drawings, 3 oil paintings, etc)
8. Exhibitors are limited to TWO PRIZES in any one category
9. All handcraft entries must have been created since the close of the last fair.
10. Names should be covered on the face of the entry tag to prevent judges from identifying the exhibitor.
11. You may pick up your exhibit after 8:00pm on the last day of the fair. NO EXCEPTIONS.
​
IF YOU CANNOT PICK UP YOUR EXHIBITS ON THE LAST DAY OF THE FAIR:
Please make arrangements to pick up your exhibits on the following Sunday morning or other time. You may also give someone your entry stubs to pick up the exhibits for you.
Department 11 Contests
Department 11 - Division II
Best of Show - In each Age Group
PRIZE: 1st - $25.00
All Department 11 entries in all classes in each age group
are eligible and will be considered for the award.
No special registration required.
SPECIAL AWARD - Best Quilt in Youth Show
PRIZES: 1st - $25.00
No special registration required.
Sponsored by:
HANDS ALL AROUND ERIE QUILT GUILD
SPECIAL AWARDS
Best of Show - PHOTO - Each Age Group
2 PRIZES: 1st - $25.00
All Color and Black & White entries eligible.
No special registration required.
Sponsored by:
FREEZE FRAME LTD & 4 MILE PHOTOGRAPHY
Best of Show - in each age group
PRIZES: Valuable Gift Baskets
All Department 11 entries eligible.
No special registration required.
Sponsored by:
GREAT LAKES FINISHES
Kevin & Melanie Vanderhoof