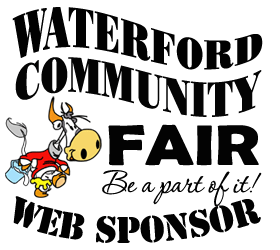 YOUR AD COULD BE HERE!
Contact Linda Carroll - (814) 881-4059
for pricing and availability!
Download PDF
Section 7 - 4H and FFA Rabbits
Darlene Kinnear & Dawn Parella, Co-Chairmen
(814) 796-3577
1. Entries must be received by August 19 and must show class. $1.00 per head entry fee must accompany the entry blank.
2. (Refer to General Rules and Regulations in Department 9)
3. OUT OF STATE RABBITS - "Certificate of Veterinary Inspection" (CVI) must be issued within 60 days of opening date of the fair.
BREEDS - We will accept the following breeds:
1. American
2. Angora (English
3. Angora (French)
4. Belgian Hare
5. Bevern
6. Britannia Petite
7. California
8. Champagne D'Argent
9. Checkered Giant
10. Chinchilla (American)
11. Chinchilla (Giant)
12. Chinchilla (Standard)
13. Cinnamon 28. Lop (Mini)
14. Creme D' Argent
15. Dutch
​
16. Dwarf Hotfoot
17. English Spot
18. Flemish (Giant)
19. Florida White
20. Harlequin
21. Havana
22. Himalayan
23. Hotot
24. Lilac
25. Lop (English)
26. Lop (French)
27. Lop (Holland)
28. Lop (Mini)
29. Lop (Fuzzy)
30. Netherland Dwarf
31. New Zealand
32. Palomino
33. Polish
34. Rex
35. Mini Rex
36. Rhinelander
37. Sable
38. Satin
39. Silver
40. Silver Fox
41. Silver Marten
42. Tan
43. Jersey Wooley
44. Pets
45. Pet Class (Child Under 16)