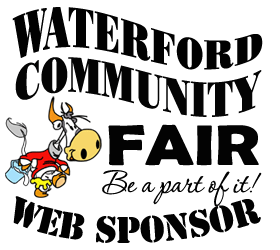 YOUR AD COULD BE HERE!
Contact Linda Carroll - (814) 881-4059
for pricing and availability!
4H and F.F.A. Dairy Cattle
NOTICE: The listing of cattle entries closes August 19. Arrange for them by that time so that space can be reserved.
1. Refer to General Rules and Regulations in Department 2
2. OUT OF STATE CATTLE - "Certificate of Veterinary Inspection" (CVI) must be issued within 30 days of opening date of the fair.
3. Entries must be in by August 19 on a completed entry form. It must have classes noted.
4. 4-H Club or FFA members must be present and have charge of their animals at the time of judging.
5. Only first and second place winners may enter Open Class competition.
6. $2.00 per head entry fee must accompany the entry blank.
7. One animal per exhibitor per class.
8. Note: Classifications and premiums listed are to apply to each breed.
9. 4H and F.F.A. DAIRY CATTLE ENTRIES ELIGIBLE FOR FITTING & SHOWMANSHIP AND GOOD HOUSEKEEPING AWARDS.
Section 1 - 4H & FFA Dairy Cattle
A - Ayrshire
B - Brown Swiss
​
C - Gurnsey
D - Holstein
​
E - Jersey
F - Milking Shorthorn G - Red Holstein
​
Use the following designations for breed classes:
The same classifications and premiums as stated below to apply to each breed.
​
​
Click the download link below for all sections, classes and premiums for Department 10 - Section 1 - 4H & FFA Dairy Cattle.
​
Includes class definition for all breeds as well as special departmental award information.
​
​
Download PDF