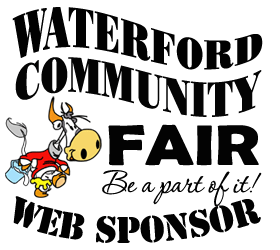 YOUR AD COULD BE HERE!
Contact Linda Carroll - (814) 881-4059
for pricing and availability!
Beef Cattle
Mike Ross - Chairman
(814) 464-5717
Upon arrival, all livestock exhibits (including out of state entries) must present a current "Certificate of Veterinary Inspection" (CVI) form.
​
Pennsylvania Cattle - CVI issued after May 1, current year
Out of State Cattle - CVI Issued within 30 days of date of importation
Items highlighted in yellow indicate a reminder of recent modifications to Beef Cattle Rules and Regulations
​
All entries for beef cattle must be made by August 16th by contacting the chairman. A list of the classes in which you will be showing is required. All beef cattle must be in no later than 9:00 P.M. on Monday. Send entries with a check made payable to The Waterford Fair Association, $2.00 per animal/per department to: Mike Ross, 10312 Etter Road Waterford, PA 16441.

No beef cattle may be removed before 7:00am Sunday morning or prizes will be forfeited.

See "Health Rules and Regulations - Dairy and Beef Cattle"

All breeding cattle entered must be registered in the registry association for the respective breed as the property of the exhibitor. All cattle must be at least 3/4 blood to be shown as a breed. Health papers and registration papers will be checked upon arrival of cattle to fairgrounds. Registration papers must be presented on animals over 6 months of age; animals younger than 6 months registration papers of dam and sire must be presented if the animal's papers have not been processed.

The chairman reserves the right to bar from competition animals of decidedly inferior conformation of type or condition and those not possessing sufficient merit to warrant recognition.

Exhibitors will be expected to display their animals as directed by the chairman; to accept the stall assigned without controversy; to keep their animals in an attractive appearance and to cooperate with the department.

Exhibitors of beef cattle must inform themselves as to when their cattle will be judged. Cattle must be in the ring promptly on call and failure to appear could result in disqualification. Display of ribbons and/or awards previously won by cattle at other shows will be prohibited

Judging of beef cattle will be Wednesday. Breeding cattle will begin at 2:00 P.M., Feeder Class at 5:00 P.M. Market Beef classes at 6:00 P.M.

In the event of no competition in any class, a ribbon and premium is awarded at the discretion of the judge.

The decision of the judge will be final in all cases, except where mistakes, fraud, misrepresentation or collusion, not discovered at the time of the award, is proved. In such cases, the chairman and beef committee will make the decision.

All exhibits will be under the control and direction of the livestock committee, but the Fair Association will in no case be responsible for any consequential or other loss, injury or damage done to, or occasioned by, or arising from any animal exhibited by the exhibitor

The Fair Board will put forth every effort to protect all exhibits, but all exhibitors of livestock will be responsible for the care and feeding of the animals and also daily removal of manure from the barns and tents.

No alcoholic beverages are permitted in barns or barn area. Smoking in the barns and tents is forbidden by rules and regulations of the Fair Association.

All entries must be owned by the exhibitor for at least 30 days prior to the closing date for entries.

When on exhibition in the ring, each animal must be under proper halter and in charge of the owner or owner's representative. Animals that cannot be properly controlled and present a threat to other exhibitors and/or spectators will be barred from competition at the discretion of the judge and/or the chairman. There will be people available to assist junior exhibitors when necessary.

Limit one entry only in either Market or Feeder Beef Classes per Exhibitor. Limit two (2) entries per exhibitor in any one breeding class.

All market and Feeder Heifers born before December 1, 2021 must have a CVI certification as open with 30 days of opening date of the fair.

Minimum weight for Market Beef for 2022 is 1,000 lbs.
Click the download link below for all sections, classes and premiums for Department 3 - Beef Cattle. Carefully review and familiarize yourself with the many changes made in breeding and market classes. Contact the deparment chair for questions or clarification.
​
The download includes class definition for all breeds as well as any special departmental award information:
Download PDF