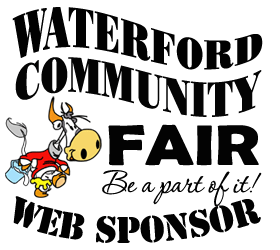 YOUR AD COULD BE HERE!
Contact Linda Carroll - (814) 881-4059
for pricing and availability!
Upon arrival, all livestock exhibits (including out of state entries) must present a current "Certificate of Veterinary Inspection" (CVI) form.
​
Pennsylvania Horses - CVI issued after May 1, current year
Out of State Horses - CVI Issued within 30 days of opening date of the fair
Horses
Draft Horses - Sandy Kafferlin, Ed Hess - Co-Chairmen
Pleasure Horses - Sandy Kafferlin - Chariman
​
Download PDF
​
NOTICE: The listing of Horse entries closes August 19. All entries to be in no later than 9:00pm Monday
· Exhibitor is responsible for daily care and feeding of animals and also daily removal of manure from barn.

· All hitch entries must have been shown in the appropriate halter class.

· The Fair Association reserves the right to limit the number of entries.

· Tie stalls only except for mares with foals.

· Open class animals may not be removed prior to 10:00pm Saturday or prizes will be forfeited.

· No riding of animals after 6:00pm.

· Ribbons must be on display over animal.

· All exhibits will be under the control and direction of the livestock committee, but the Fair Association will in no case be responsible for any consequential or other loss, injury or damage done to, or occasioned by, or arising from any animal exhibited by the exhibitor.

· The Fair Board will put forth every effort to protect all exhibits, but all exhibitors of livestock will be responsible for the care and feeding of the animals

· The committee reserves the right to reject or to remove any animal they feel will endanger the public.

· Age of all animals will be determined from January 1 of the year of birth.

· Smoking and alcoholic beverages in the barn is forbidden by rules and regulations of the Fair Association.

· No hay will be furnished by the Association

· Senior Class - 13 to 17 years old.

· Junior Class - 7 to 12 years old.

· Junior Class must be accompanied by an adult.

· Horse and Pony judging Tuesday at 4:00pm

· No stallions in Pleasure Horse Division.
Waterford Fair
HORSE PULL