THANKS TO OUR
HOME PAGE SPONSOR!
Yep...they're big, they're loud, they're fast, and they're back...better than ever!
Ok.....so we had a little rain last year, but that didn't dampen the spirits of all those who braved the elements for a phenomenal show. High powered entertainment for about the price of a bucket of fair fries!
Advance sale and VIP seating tickets on sale NOW!
​
THE SHOW HAPPENS SATURDAY - 9/4/2017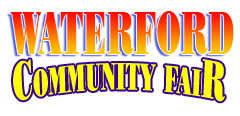 Come Join Us!
We're located just a couple of miles south of the historic town of Waterford, Pa on Route 19.
Here's how to find us!
Purchase Advance Sale Items on-line!
​
Come celebrate the final day of the 2017 Fair!
SPECAL THANKS TO ALL WHO
ORDERED ON LINE!
​
TICKET STRIPS RETURN IN 2017
ADVANCE SALE - ONE TICKET/ONE RIDE Tickets will once again be available for this year's fair! Strips containing 6 tickets for 6 rides at the advance sale price of $10.00 on-line and through our normal distribution outlets.
Daily Ride-A-Rama tickets will be available at the fairgrounds during fair week from our ride vendor.
​
​
THE

2017 WATERFORD FAIR
PREMIUM BOOK
NOW AVAILABLE!
The 2017 premium book has been published and now available through our normal outlets:
5-M Milling
E.L.Heard & Son
NAPA Auto Parts - Waterford
Jake's On The Park
Linda Falconer - Mill Village
Erie-Crawford Co-Op - Union City
Please be sure to visit our fair book advertisers and let them know you saw them here! Exhibit entry forms are still available on the web. CLICK HERE>
​
MAIN EVENT AMUSEMENTS SIGNED AS OUR NEW RIDE VENDOR FOR 2017
For the adventurous thrill seeker, we'll have bigger and better ride attractions as well as a wide assortment of games of skill.
A welcome addition to our midway offering.
Over the years the fair's success can be traced to the volunteers who have unselfishly donated countless hours of their time and efforts. Their only reward has been that warm and satisfying feeling associated with helping a friend. Without this community's involvement, the fair's future success and growth would most certainly be in question.
We continually welcome and encourage any and all who would like to volunteer, at any level. To become a bigger part of the Waterford Community Fair...please contact any fair board director or committee chair for details on how you too, can join.
THE WATERFORD COMMUNITY FAIR ASSOCIATION
Need your space?*
If you'd like to be a vendor at this year's fair contact:
Rob Papesch - Commercial Displays
(814) 464-4250

*Subject to availabilty